The Forum 2 Moose Page
Being a Place of Great Silliness and Fun
Main Feature: The Mind's Moose, a Forum 2 production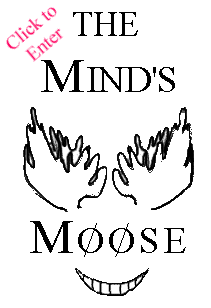 Other Moose Links:
Note: These links are external to the Forum 2 Homepage and will open in a new window. Many of them include links to even more moose pages!

Dropping One for Science, from Scientific American (February 1997)
Moose World: About Moose. About Nature. About Life.
The Moose Page, "Your Source for Moose Information"
More About Moose than you'd ever want to know
The Moose Brothers Bar
Trails of Anchorage
The Ultimate Moose Web Page


... More will follow!
---